Crossroads Pet Professionals LLC
One stop for all of your pet needs! Veterinarian, Boarding, and Doggie Daycare

About our Veterinary Animal Hospital
In Brentwood TN & Nolensville TN
Crossroads Pet Professionals is a full service pet care facility. We are unique in that we provide boarding and veterinarian services to all our pet residents. We offer boarding for both cats and dogs, and a doggie daycare that serves both Nolensville TN and Brentwood TN (and the surrounding area). We enjoy giving value to our clients and patients by providing a positive, educational and compassionate veterinarian environment for our staff, pets and pet parents.
Our dog boarding and cat boarding facility has an in-house veterinary hospital and is staffed with well-trained professionals to care for your furry pet. We love providing service to the area and to the Brentwood TN Paw Residents. See our Nolensville Veterinary Hospital location.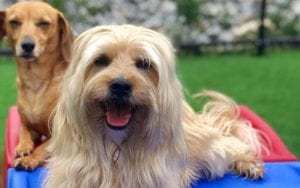 LOVE the staff at CPP!!!  Always take the time to help us understand all of our pets' needs.
Richard H.
Crossroads Pet Professionals has the best and most caring bedside manner with animals. I met Dr. Anderson at Crossroads when my cat was very sick. She is very knowledgeable and really seems to care for your pet. Dr. Anderson talked about all available treatments thoroughly and in detail; attentive to all of my concerns. The staff is always caring, friendly and helpful with all the needs of your pet. I highly recommend this vet, truly the best! (Five Stars)
Jane W.
Our family pets have been patients of Dr. Tjardes and Crossroads for over 15 years.  We have been very pleased with their service and attention to detail. They take the time to answer our questions and return phone calls promptly.  Their employees are very friendly and remember both our names and our pets' names.  Unfortunately, we've had two pets that were euthanized there and Crossroads handled our grief with respect and empathy.  We have used their boarding and grooming facilities also. The boarding and grooming facilities are top-notch. The kennels are size appropriate, clean, and offer extra play time & attention for our pets.  We highly recommend Crossroads for all your pet needs.
Dorothy T.
Simply 5-Star
Internet Reviewer
I have been going to Crossroads for over 20 years, starting with our first Italian Greyhound –little Bella- in 1997.
Now we have our little girl- Lily- and we are so thankful that the Doctors and staff treat our pups- like their own! Top notch! So blessed to know- Lily is always is great hands!
Thank you!
Betty R.
My husband and I have been taking our two boxers Frank and Alice to crossroads for over five years now. Not only do they provide personalized and exceptional care for our dogs, but the veterinary staff has been wonderful in helping to alleviate several small issues for our dog Frank. Specifically, Frank has had an eye problem as well as a growth on his head. Both items were resolved to our satisfaction which is one reason of many why we continue to use Crossroads for our dogs. Every time the dogs get out of the car to go to the Crossroads, they bolt for the front door because they are so excited to see the wonderful staff and have another great stay. We are so thankful to have such a great place to take our beloved pets!
Holli H.
I always enjoy working with the friendly people at Crossroads. They provide quality care.
Bob L.
Great!!! I have been taking my dog the Crossroads for 4 years. She enjoys interactive daycare and boarding. We board most major holidays. She gets her vet work done while boarding and a bath. She always smells great. How wonderful it is to have everything done at once. I would recommend them to everyone
Loyal Customer